The Secret Origins of
Krypton Komics.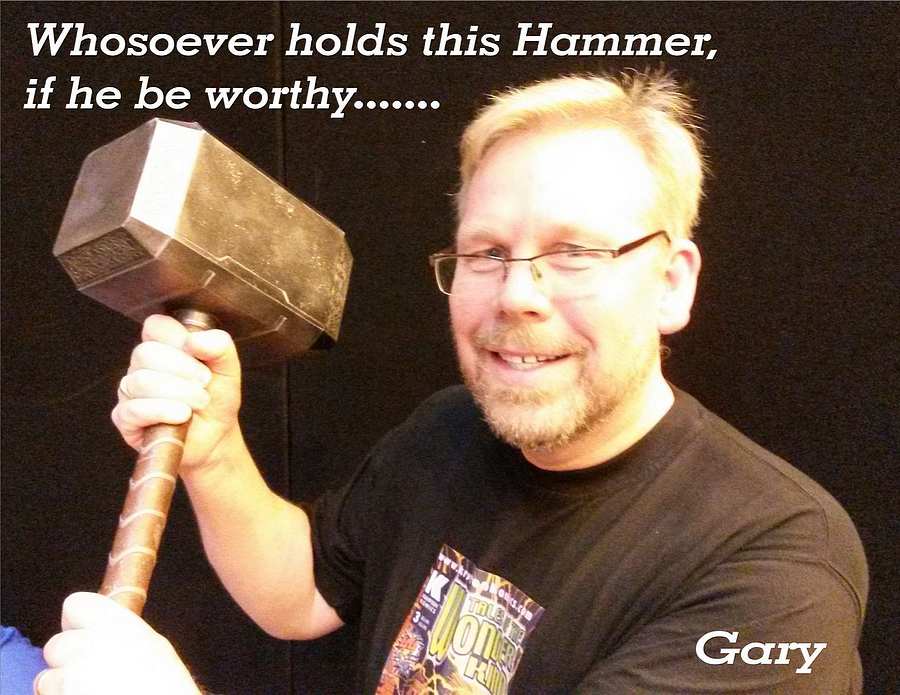 The roots of Krypton Komics can be traced back to an incarnation that pre-dates both the owners birth and the onset of the Silver Age of comics itself.
The story begins in 1960 when a French polisher and his wife opened a second hand book stall on site A5 in Walthamstow market. This was four years before the birth in 1964 of Krypton Komics founder Gary Ochiltree. The French polisher was called Charlie Wright. He and his wife Jessie were to happily sell books (along with a small box of the newly available American comics) from then until his retirement in 1986.
In 1976 Gary was press-ganged by his brother, Greg, into helping him pull out market stalls before school. Arriving around 5am in all weather they'd tow out around 30 or so ready for the traders. Amongst these was Charlie's book stall, and on one Saturday morning in 1978 Charlie asked Gary if he wanted a days work. Gary said he'd give it a go, and became the regular assistant on every Saturday from then onwards. Gary had been a regular visitor to the stall anyway from the early 1970's where he spent his pocket money on the wonderful treasure trove to be found in the second hand comic box.
All the comics were just 3p each! He'd always devoured comics from an early age, so the chance to work on the stall meant he had first pick of any new comics, along with some money to buy them:-)
From 1978 until 1986 Gary worked on the stall for Charlie (mostly on Saturdays) as his assistant, whilst finishing school and beginning work as a commercial artist.
In 1980 Gary along with his school friend Rob, attended the Central Hall Westminster comic mart for the first time as dealers. Gary continued regularly attending various London comic marts as a dealer in an unbroken run of 31 years from then until 2011.
Charlie retired in 1986, and Gary took over the market stall, transforming it from a second hand book stall into Gary's book and comic stall, selling not just books and second hand comics, but the brand new imported items as well. This was effectively the first incarnation of Krypton Komics, and it traded in tandem with all the following shops until 2003.
Gary opened the second Krypton in 1986 as a real shop at the In-Shop centre in Wood Green.
In 1990 came the third Krypton as the shop moved from Wood Green to Edmonton Green. Edmonton worked as a yearlong holding pattern whilst Gary acquired the lease of a much larger shop.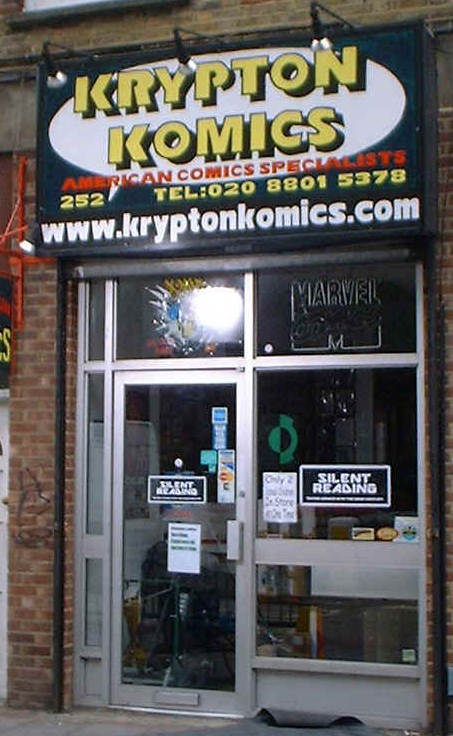 So in 1991 came the fourth Krypton at 252 High Road Tottenham, which offered nearly 1000 square feet of retail space. When Gary decided that working on a Market Stall was really a job for a younger man he finally (and with great sadness) closed the stall at the end of 2003 and began looking for a better shop to consolidate the two retail outlets into one.
So it was that in 2006 the Tottenham shop relocated back to the starting place of the whole thing, Walthamstow. At 94 Blackhorse Lane he gained an extra 250 square feet of retail space (1250 in total) where it is today. For the moment at least.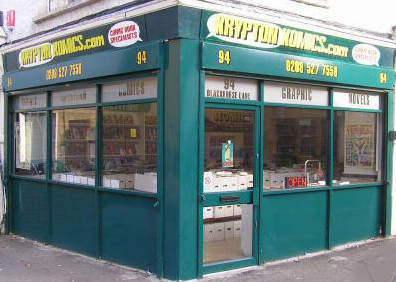 Over the last 35 years or so selling American Comics, we've sold literally millions of comic books, including every Silver Age key comic many times over. New stock arrives virtually every day, and Gary seems to find it very hard to say no when offered more. If only we had a bigger shop!